Sunday Carvery lunch was simply wonderful!
- Rusty Thimbles (Facebook Review)
A lovely afternoon listening to live music first class.
- Helen Corr (Facebook Review)
Service was fantastic, staff were very knowledgeable.
- Karen Caron (Facebook Review)
Porcupine Village is from a bygone era but we are proud to offer you a menu which is contemporary and modern Australian. Our desire is to offer you a dining experience to be remembered.
We source almost all of our fresh and seasonal produce locally and forage daily from our own organic kitchen garden located next to the restaurant. Only the best is acceptable here. Our staff are all locals and are passionate about food and beverage service being of a high standard.
We hope you enjoy yourself and will want to come back time after time, and recommend us to your family and friends.
Sonya McCarthy
Head Chef / Event Planning
Varada Perumal
Front Of House Supervisor
Live Acts & Themed Menus
What's On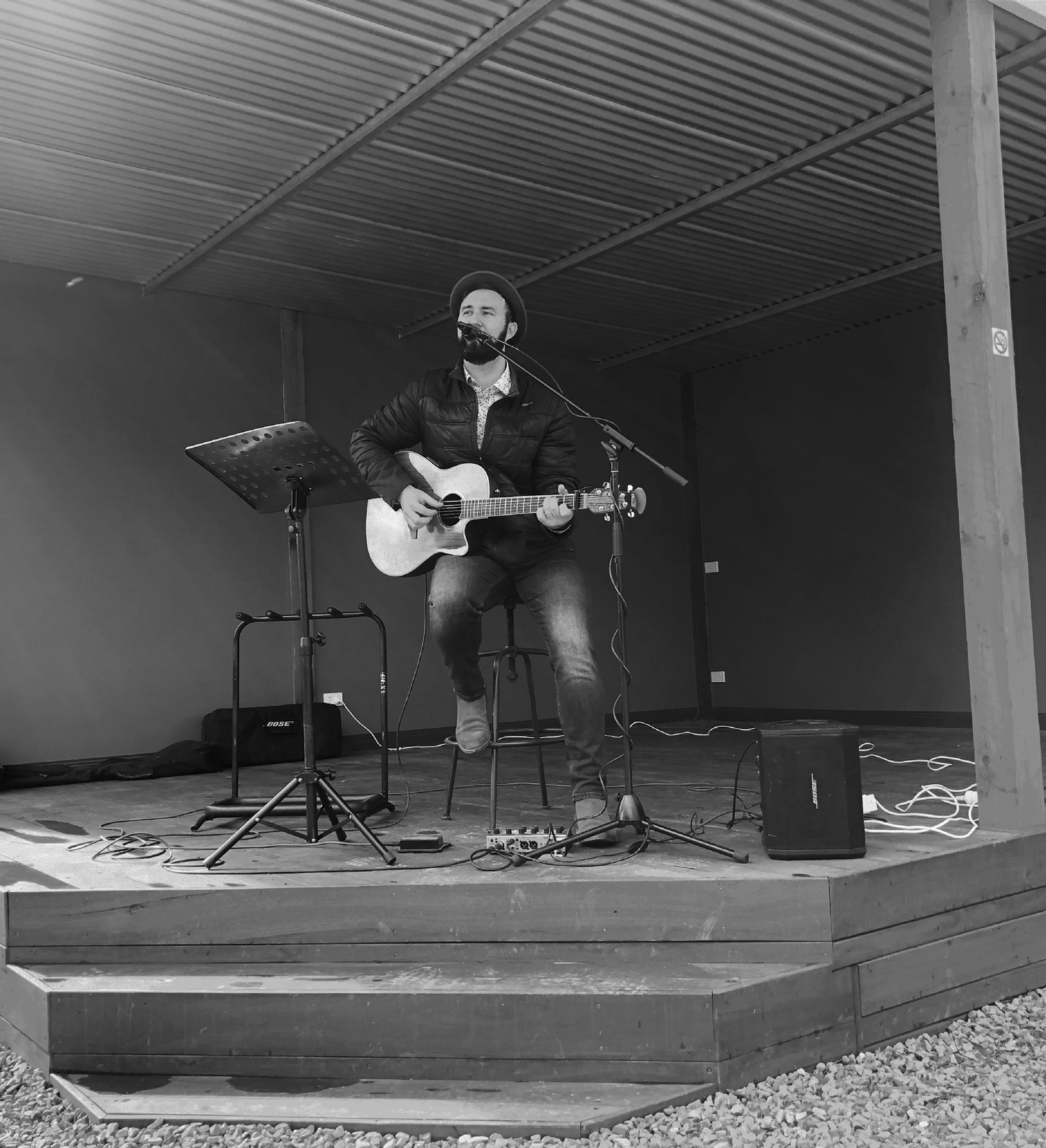 Live Acts & Themed Menus
What's On
Check out our What's On page for information on upcoming live acts at the Golden Nugget (Sunday Sessions) and occasional themed menus throughout the year.


Proudly supporting local producers
Maldon Historical Bakery
Country Fresh Meats
PRICE: Adults - $32 | Seniors & Kids (under 12) - $23
Join us from 12 - 2pm for a classic Sunday lunch - 'Carvery Style' including:
3 Meats
Roast Loin of Pork, Sirloin of Beef, and BBQ chicken with gravy (gf)
OR
Baked Field Mushrooms filled with savoury rice served with beetroot relish (gf ve)
---
Served With
Roast potatoes with rosemary salt
Steamed Seasonal Vegetables
Roast Root Vegetables
---
Desert Of The Day
---
PRICE: $12 per dish
Bowl of Thick Cut Chips
with Gravy or Tomato Sauce
---
Trio of Dips of the Day
with Corn Chips
---
5 Sweet Chilli Chicken Tenders
with Garlic Aioli
---
Crumbed Prawn Cutlets
with Japanese dipping sauce
---
Vegetable Spring Rolls
with sweet chilli
---
Steamed Pork Dumplings
with soy vinegar
---
Fish Cocktails
and chip buckets
White
Glass Price / Bottle Price
---
Wine X Sam Stardust And Muscle Chardonnay
40
Strathbogie Ranges, Victoria
Crankie Pearl Viognier and Marsanne
10 /
30
Ravenswood, Victoria
Yarra Valley Chardonnay
11 /
50
Yering Station, Yarra Valley, Victoria
Panacea Cairn Curran Estate Semillon
8 /
30
Welshmans Reef, Victoria
Wine X Sam The Victorian Pinot Gris
8 /
30
Strathbogie Ranges, Victoria
Babich Sauvignon Blanc
11 /
35
Marlborough, New Zealand
Villa Maria Sauvignon Blanc
45
Marlborough, New Zealand
Saint Clair Sauvignon Blanc
11 /
35
Marlborough, New Zealand
Dal Zotto Pinot Grigio
11 /
45
High Country, Victoria
Pizzini Pinot Grigio
11 /
45
High Country, Victoria
Giesen Riesling
8 /
30
Marlborough, New Zealand
Wine X Sam The Victorian Riesling
8 /
30
Strathbogie Ranges, Victoria
Tempus Two Copper Moscato
11 /
45
South Australia
Rose
Glass Price / Bottle Price
---
Panacea Estate Rose All Day
8 /
30
Welshmans Reef, Victoria
Chaperon Vineyard Pale Grenache
8 /
30
Bendigo Goldfields, Victoria
Wine X Sam Primitivo Rose
8 /
30
Strathbogie Ranges, Victoria
Champagne & Sparkling
Glass Price / Bottle Price
---
Moet Chandon Imperial Brut
90
Reims, France (NV)
Veuve Cliquot Yellow Label Brut
99
Reims, France (NV)
Wine X Sam Prosecco
8 /
30
Strathbogie Ranges, Victoria
Panacea Estate Sparkling Semillon
8 /
30
Welshmans Reef, Victoria
Panacea Estate Sparkling Rose
8 /
30
Welshmans Reef, Victoria
T'Gallant Sparkling Pink Moscato
8 /
30
Multi Regiom Blend
Red
Glass Price / Bottle Price
---
Grangehill Vineyard Shiraz
60
Neereman, Victoria
Panacea Estate Shiraz
8 /
30
Welshmans Reef, Victoria
Killiecrankie Shiraz
60
Ravenswood, Victoria
Bendigo Waterwheel Shiraz
10 /
35
Bendigo Goldfields, Victoria
Cairn Curran Chapples Shiraz Reserve
8 /
30
Welshmans Reef, Victoria
Black Estate Single Vineyard Shiraz
55
Bendigo Goldfields, Victoria
Hazyblur Basket Press Shiraz
40
Kangaroo Island
Grant Burge Filsell Shiraz
13 /
50
Barossa, South Australia
Two Hands Wine Max's Garden Shiraz
80
Heathcote, Victoria
Heathcote Single Vineyard Shiraz
80
Heathcote, Victoria
Pepperjack Certified Shiraz Cabernet
13 /
50
Barossa Valley, South Australia
Killiecrankie Sangiovese Shiraz
45
Ravenswood, Victoria
Grangehill Vineyard Chaperon Grenache Shiraz Mourvedre
9 /
30
Neereman, Victoria
Grangehill Vineyard Chaperon Grenache Mourvedre
9 /
30
Neereman, Victoria
Wine X Sam White Gate Cabernet Sauvignon
14 /
50
Strathbogie Ranges, Victoria
Cairn Curran Chapples Cabernet Sauvignon
9 /
30
Welshmans Reef, Victoria
Sticks Pinot Noir
12 /
40
Yarra Valley, Victoria
Wine X Sam Pinot Noir
12 /
35
Strathbogie Ranges, Victoria
Fortified And Dessert
Glass Price / Bottle Price
---
Penfolds Grandfather Tawny Port
15 /
Barossa Valley, South Australia
Grant Burge Port
10 /
Barossa Valley, South Australia
Wine X Sam Late Harvest Viognier
14 /
Strathbogie Ranges, Victoria
Cola, Diet Cola, Lemonade, Lemon Lime & Bitters, Raspberry, Lemon Squash
200ml

3
440ml

3.5
Coke, Coke No Sugar, Diet Coke
3.5
375ml Can
Orange Juice, Apple Juice
200ml

3
440ml

3.5
CAPI Still Or Sparkling Water
500ml

5
Great Northern Super Crisp
7
Harcourt Cider - Apple, Pear, Dry
9
Shedshaker Knucklehead Rye Ipa
9
Shedshaker Frailty Pale Ale
9
Aperol Spritz
19.5
Aperol Liqueur, Prosecco, Soda, Fresh Orange
Espresso Martini
19.5
Vodka, Coffee Liqueur, Espresso, Beans
Classic Margarita
19.5
Tequila, Cointreau, Lime
Virgin Margarita
12
Lemon, Lime And Orange juice, Sugar Syrup
Four Pillars Rare Dry Gin
13
Belevedere Citrus Vodka
11
Vodka Cruiser Lemon & Lime
11
Settlers Pink Gin & Tonic
11
Tea
4
English Breakfast, Earl Grey, Peppermint
Coffee
5
Cappuccino, Latte, Flat White, Long Black, Espresso, Short Macchiato
Bubbaccino / Mini hot chocolate
2
Beef Tartare
18
Maldon beef | salt cured village egg yolk | gherkins | tiny capers | olive oil crackers
Crispy Otway Pork Belly
18
Chinese 5 spice | apple and radish slaw (GF)
Fresh Seasonal Oysters
4
Choice of 3
1) natural with lemon
2) mignonette, Goldfields red wine vinegar, finely diced shallot
3) ginger, light soy, miso (GF)
Grilled Asparagus & Witlof Salad
17
roasted walnuts | dried cranberries | Four Pillars Rare Gin dressing (GF) (VG)
Pumpkin Gnocchi
17
burnt sage butter | caramelized pumpkin | Holy Goat frais (GF) (V)
Hoisin Roast Chicken
17
steamed bao bun | Vietnamese salad | house made sriracha mayo
250g Charred Eye Fillet
38
cooked to your preference | 250g Maldon bio dynamic beef | Heathcote Estate shiraz jus | fried enoki | wild mushrooms (GF)
Village Garden Risotto
25
broccoli | baby spinach | edamame | basil pesto | toasted pepitas (GF) (VG)
Mount Alexander Lamb
38
3 point rack | Warral honey | cauliflower puree | Strathbogie Ranges Cabernet reduction
Lobster & Prawn Ravioli
35
sautéed prawns | Panacea Semillon | Inglenook cream | crispy parsley | fennel oil
Macedon Ranges Duck Breast
32
confit & pan fried | Davidson plum | wilted spinach and orange compote
McIvor Pork Scallopini
32
alla fungi | Harcourt apple cider | Inglenook cream | dried apple | tarragon (GF)
Potato Galette
10
(GF) (VG)
Seasonal Greens
10
garlic | lemon | hazelnuts (GF) (VG)
Golden Nugget Salad
10
(GF) (V)
Heirloom Carrots
10
maple & thyme roasted (GF) (VG)
Spaghetti
15
napoli | meatballs
1/2 Chicken Schnitzel
15
chips
Pumpkin Arancini
15
tomato sauce
Orange & Almond Tumble Cake
16
mandarin dill syrup | Inglenook Cointreau cream (GF)
Crème Brûlée
16
Baileys Irish cream | cinnamon | Castlemaine Fine Biscuit Co shards
Vanilla Bean Ice Cream Mess
16
lucky lemon butter | freeze dried raspberries | pistachios | vanilla macarons (GF)
Vegan Ice Cream (GF) (VE)
7
Coconut or
Vanilla